The art of not being
waSteful
Reduce, Reuse, Recycle, Repair and Respect resonates right with the current zeitgeist. For us at Norwegian Rain, it has always been our mantra. No negative footprints, if we can help it. Our current collection highlights just that. Creating objects of desire is a cornerstone of human evolution. It enriches our lives and connects the patrons to the artisans. Sometimes though we tend to go overboard. This collection is all about the appreciation of life through functionally beautiful things on one side and the conservation of nature by making the right choices during this process. We are reducing our consumption by reusing and recycling existing stocks to respectfully aid in the repair of our environment.
This will be our compass for the times 
ahead. Come aboard with us!
By teaming up with leading eco conscious suppliers in the hi-tech industry, we've pursued the most environmentally friendly solutions throughout our production process to date. The sum of the above steps plus our small production runs, our no discount/ sale reduction policies, our slow fashion mentality ensures that our eco and sustainability journey stays unflawed
Eco was a key focus when we initiated our journey 13 years ago. A time when 'being eco' wasn't trendy. It's satisfying to mention that we haven't budged an inch from that initial focus. This is simply because we believe that our idea of protecting you from the natural elements should go hand-in-hand with protecting our natural elements!
"we believe that our idea of protecting you from the natural elements should go hand-in-hand with protecting our natural elements!"
Reduce, Reuse, Repair, Recycle
Striving to become better every day
Since Michael and I, are present on the shop floor on more or less a daily basis in one of our four flagships in Bergen, Oslo, Paris and Tokyo, we get to engage closely with our customers. We've learned that our garment lasts, that they get used a lot. Should the garment loose it's functionality, we repair them! In 2019, after 10 years of sales, we were confronted with only 19 claims. We're pretty proud of that part!
Our no-discount policy challenges our design process as our garments then need to be design relevant season after season. We see it as a win win situation. Less garments needs to be manufactured. Our retailers keep their profits margins on a more sustainable level. And our customers are equipped with the best state of the art utilitarian clothes that last thereby feeling sharp, cool and collected regardless of the weather. Obviously regardless of the season. They are poised for every situation.
Alexander T. Helle
Creative director / Manager
T-Michael
Chief Strategist / Head designer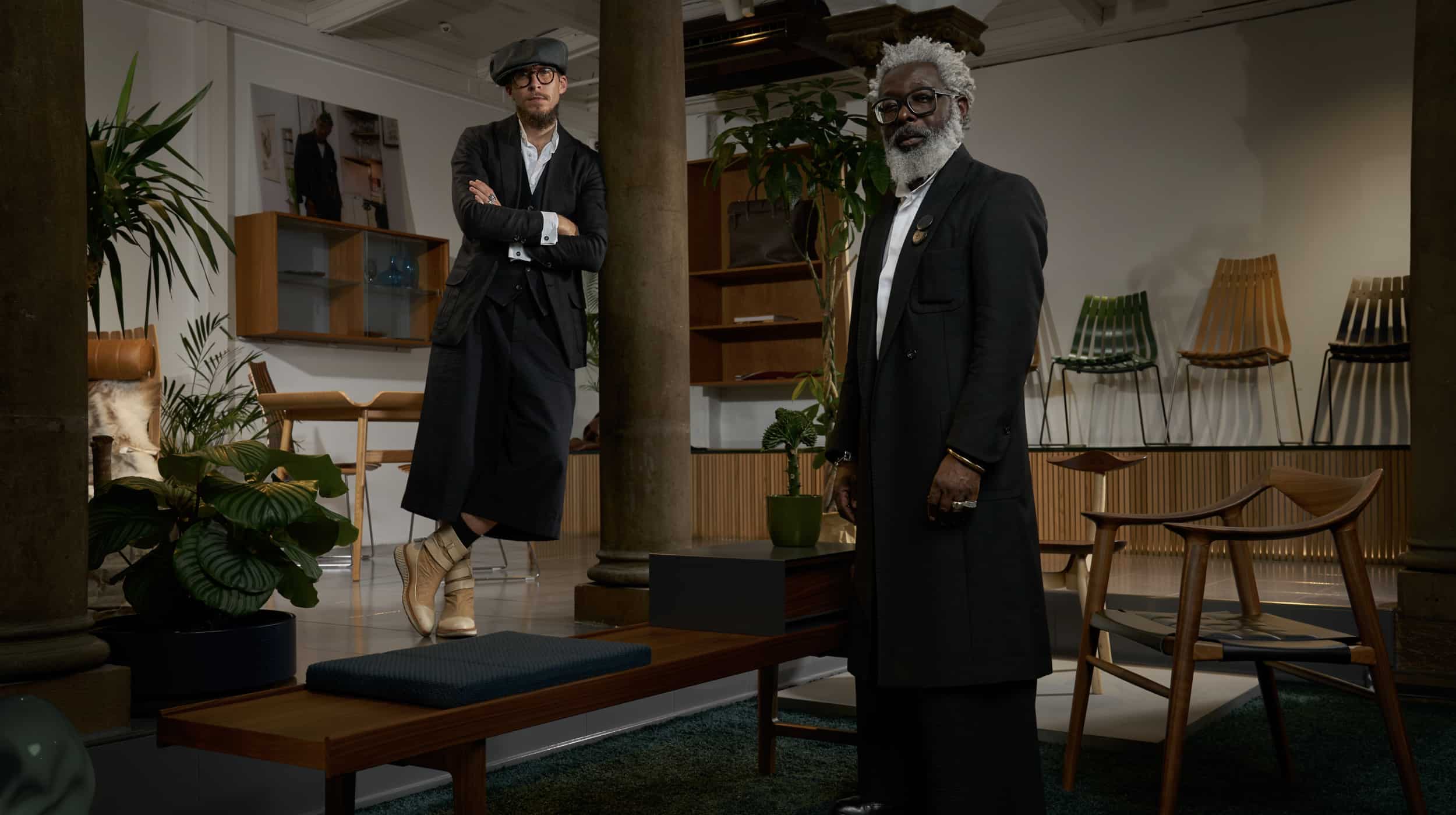 Prolonging a garments lifetime by two decreases the climate impact by 49 %
*Mistra Future Fashion Report based on the swedish fashion industry.
When a garment is beyond repair, it reaches the disposal stage. Today, we are learning more and more about circular business models where eco follow every step of the product's lifecycle, then recycled efficiently to close the loop.
When we started 10 years ago, we chose our tech supplier based on the fact that they did in fact have a closed loop system – with a return option ending with chemical recycling. At the time we were too a small company to create an efficient system for it. And unfortunately, they were too early for the marked in general terms hence that part did not survive. So, we are working on finding the solution to that. Finding a chemical recycling partner for our garments. Should you know of anyone – please introduce us!
Our technical fabrics are made of waste
95% of material production are Bluesign certified – which guarantees that harmful substances are eliminated, natural resources are managed responsibly, water, air emissions and wastewater are continuously being reduced and those actions in general supports a lowest possible ecological footprint and safety for people involved.
Challenges of the high performance outdoor category.
Abstaining from fluorocarbons
We abstained from using PFOA before we launched, which is 7 years ahead of most of players in the high-performance outdoor industry. We have one challenge though. All new outer fabrics we are developing together with our Japanese fabric supplier are now delivered with a repellency free of fluorocarbons (C0). C0 is better for the environment when it comes to not spreading any potential harmful fluorocarbons into nature. However, the water and especially stain repellency in C0 is much poorer than C6 and will lead to a shorter life cycle span when garments are permanently stained. Knowing that doubling the usage for a garment will reduce the climate footprint with 49% (Mistra Future Fashion) makes it a difficult choice. Today's available technology is not ideal. We need a better solution.
Battling overproduction
The eco equation
Today however, we know that choosing materials is only a small part of the eco equation. Overconsumption and overproduction are among the main challenges of today. So 10 years ago, we established our niche company to battle that. Small runs with attention to details, timeless yet contemporary as well as weather- and style versatile. Tradition meets innovation. All with the intention of manufacturing well-made technical garments that pushes the envelope. Challenging high fashion with our innovative, hidden hi-tech garments that seduces you beyond what a functional piece of clothing would ever do and at the same time maintaining our stylistic approach.
"The average consumer buys 60 percent more pieces of clothing than 15 years ago. Each item is only kept for half as long"
McKinsey State of Fashion Report 2019